A wheel bearing kit is a group of components that work together to allow a car's wheels to spin smoothly and efficiently. The kit typically includes the wheel bearing, seals, and other small parts that are necessary for the proper functioning of the wheel bearing.
The main purpose of a wheel bearing is to support the weight of the vehicle while it is in motion. It allows the wheel to spin freely, without any friction or resistance, which is necessary for the smooth operation of the car. Wheel bearings are typically made of high-quality steel and are designed to withstand the stresses and strains of everyday driving.
There are two types of wheel bearings: tapered roller bearings and ball bearings. Tapered roller bearings are more durable and can handle heavier loads, but they are also more expensive and require more maintenance. Ball bearings, on the other hand, are cheaper and easier to maintain, but they are not as durable and are not suitable for heavy loads.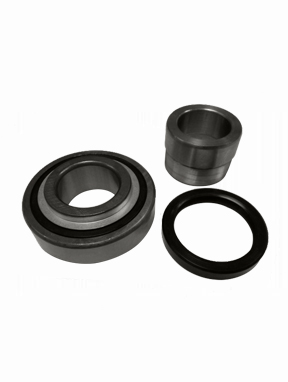 In order to maintain the proper functioning of the wheel bearings, it is important to periodically inspect and replace them as needed. This is where a wheel bearing kit comes in handy. A good quality kit will include everything you need to replace the wheel bearings, including the bearings themselves, seals, and other small parts.
When replacing a wheel bearing, it is important to follow the manufacturer's instructions carefully. This will ensure that the job is done properly and that the new bearing is properly seated and lubricated. It is also a good idea to use a torque wrench when tightening the bolts, as over-tightening them can damage the bearings.
In addition to replacing the bearings, it is also important to check the seals on a regular basis. The seals help to keep dirt and moisture out of the bearings, which can cause them to wear out prematurely. If the seals are damaged or worn, they should be replaced as part of the wheel bearing kit.
Overall, a wheel bearing kit is an essential component of any car's suspension system. Proper maintenance of the wheel bearings is necessary for the smooth operation of the car and for the safety of the driver and passengers. By regularly inspecting and replacing the bearings and seals as needed, you can ensure that your car is running at its best and that your wheels are spinning smoothly.