The inspection items of INA bearings during operation include sound, vibration, temperature, lubrication status, etc., as follows:
1. The rolling sound of the bearing
Use the sound of the size and sound quality of the audio equipment to check the operation of the thin-walled bearing. Even if the bearing is slightly peeled off and other damage, the sound emitted by the abnormal tone and irregular measuring device will be distinguished by sound measurement.
2. Bearing vibration
Bearing vibration is very sensitive to INA bearing damage, such as peeling, indentation, rust, cracks, wear, etc. will be reflected in the bearing vibration measurement. Therefore, by using a special thin-walled bearing vibration measurement (frequency analyzer, etc.), the vibration Size and frequency analysis can be inferred through unusual circumstances. The measured value of the position where the sensor is used or installed for the bearing condition is different, so each machine requires the analysis and comparison of the standard measured value determined in advance.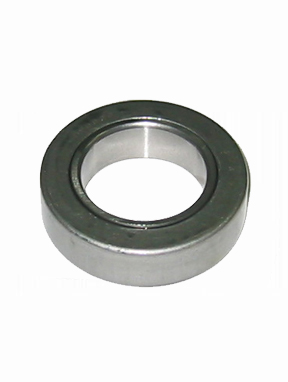 3. Bearing temperature
The temperature of the bearing, generally the temperature outside the bearing house, can be inferred. If the hole can be used to directly measure the temperature of the outer ring of the bearing, it is more appropriate. Normally, INA bearing temperature rises for 1-2 hours and slowly reaches a stable state. The heat capacity of the bearing is the normal temperature of the machine, the heat capacity is large, the speed and the load change. If the lubricating thin-walled bearing is operated during inspection and troubleshooting, and the proper part is installed, the bearing temperature will rise suddenly, and the operation will stop when abnormally high temperature occurs. Take necessary precautions.
The rigidity of the block increases, the lower the total sound pressure level, so this type of speed increases, the total sound pressure level does not increase.
The viscosity of the lubricant is higher, but for grease lubrication, the lower the sound pressure level, the shape and size of the soap fiber viscosity affects the noise value.
No matter how the speed of the bearing factory changes, the main frequency noise sound pressure level is almost constant and the speed increases.
Although the noise of straight and thin-walled bearing raceways is unavoidable, the working surface of high-precision machined parts can be used to make the correct selection and use to make the noisy precision bearing vibrate.
Random vibration noise.
The thin-walled bearing ring is naturally caused by the vibration load of the raceway sound source. When the lubrication or machining accuracy is not high, this will stimulate the inherent flexibility characteristics of the vibration of the INA bearing to move into the air, and then transfer to the noise. Because the ferrule and the rolling element constitute a non-linear elastic contact vibration system. When the radial clearance increases, the sound pressure level increases significantly.